John Carmichael Haynes
John Carmichael Haynes was born in Ireland on July 6, 1831. At 27 years of age, Haynes made up his mind to head for the colony of British Columbia and work for the newly established British Columbia Police. After receiving a number of letters from relatives who had travelled to British Columbia and struck it rich, Haynes turned to his uncle, James Carmichael, who had a lot of pull in the Irish Constabulary. Chartres Brew, a long-time friend of James, had been appointed Inspector of Police for the British Columbia colony. A glowing recommendation from Brew would certainly get Haynes a position with the B.C. Police. With nepotism clearly on his side, Haynes made way for the new world.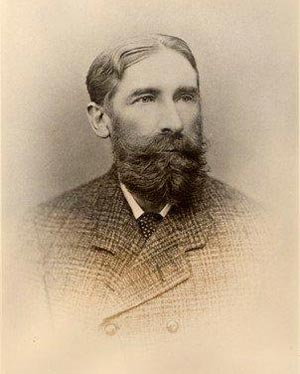 Haynes arrived in Victoria in 1858. Upon his arrival, Haynes made contact with Brew and was able to arrange a meeting with Governor James Douglas. Almost immediately following his application, Haynes accompanied Brew to the mainland in January of 1859, now a constable in the B.C. Police.
Travelling up the Fraser River, Brew and Haynes reached Fort Yale. Haynes and William George Cox worked together for a time collecting license fees from miners between Yale and Hope. However, with gold discoveries near the Similkameen River and Rock Creek area, Cox was reassigned by Governor Douglas as Justice of the Peace and Gold Commissioner for the entire Rock-Creek Similkameen region. On his way back to the coast, Governor Douglas wrote Cox and informed him that his colleague Haynes would soon join him as Deputy Collector of Customs for the area.
Haynes was reunited with Cox at Rock Creek on October 15, 1860. Haynes was limited to just the one post until April 1861 when his jurisdiction was expanded to include all the trails leading up to Okanagan Lake. Later that same year, with the depopulation of the Rock Creek area due to the riches found to the north in the Cariboo, Cox was transferred. Haynes became the head Customs Collector for the entire Okanagan-Similkameen district in November of 1861.
By 1862 Rock Creek had turned into a ghost town. There were four constables for the Similkameen district which Haynes had to reduce to two. By May 1862, however, trails were opening up to the Cariboo region and a continuous flow of traffic was passing through the customs port at Osoyoos.
Upon completion of the new customs house in 1865, Haynes looked upon Osoyoos as his home. He and his colleague W.H. Lowe acquired 22,000 acres of land from the International Boundary to the northern edge of Osoyoos Lake. Purchasing cattle from the many drovers that came through the valley, it wasn't long before Haynes had herds of cattle, horses, and sheep grazing his land.
On a return trip from Victoria in 1888, Haynes fell ill at the Allison Ranch near Princeton. He died on his 57th birthday, July 6, 1888.
It is stated that Haynes' body was taken down the Similkameen River to Cawston by canoe. From there it was transported by wagon to his home in Osoyoos. Later, his body was transferred to its current resting place in the Pioneer Section of the Osoyoos Cemetery.